I spent some time as a patient in the ABI Unit Manton Heights during the summer of 2020. The care and consideration given particularly to myself but also to my family was of the highest standard. All the staff including carers, physiotherapists, psychologists and chefs created a very friendly atmosphere which encouraged my speedy recovery.
Testimonial of LB – previous patient
My sister was admitted to the ABI following a stroke which had left her critically ill and very limited use of her right side and had affected her speech and memory. From the outset, a pathway for recovery was clear with all ABI staff providing knowledgeable care at an extremely high standard – the emphasis was always on supporting my sister to regain movement and to promote her independence. Staff were all very friendly and always on had to support and advise us as a family as we also supported her, helping with advice and information. ABI has maintained to a very high standard of hygiene and cleanliness; the meals were excellent, and the facilities for both physical and cognitive rehab were appropriate for supporting a range of needs. My sister remained at the ABI for around two months, and I am certain that she wouldn't receive the intensive input that she had there. We will always be grateful for the care, kindness and professional support that she received there. Thank you.
Testimonial from AO – sister of previous patient DJ
To my dear friends in Manton Heights ABI Centre. This is a belated thank you for the wonderful care you gave me to get back on my feet. While I have been at home, I have managed to get back to my studio to put myself through a dance class, not yet Royal Ballet standard but getting there slowly. I could not have done this without you all. Thank you so much for all your patience and constant encouragement. I miss you terribly and look forward to seeing you all again soon.
Testimonial from AF – previous patient of the ABI
Having been and visited mum 3 times (as I live in Portugal) I am delighted to see her in such a lovely environment with such caring staff.
∼ Son of service user
We would like to say thank you to you and your staff for all of the care that you have given our mother Juliet* during her stay at Manton Heights ABI Unit.
∼ Family of a service user
Thank you so much to you for all the great care, treatment and attention you gave to our mum Sophie*. She is settling in well at her new home, and was so excited to thank you personally that she signed her name twice!
∼ Service user and her family
Very welcoming staff. Very helpful and willing to assist in patient's assessment. Happy atmosphere for the residents.
∼ Nutrition CNS, Bedford Hospital
We would like to say a huge 'thank you' to all ABI unit staff. What a team!  
Together, you have treated both of us with patience, kindness and humour. You have all played a part in helping us to come through a difficult time in our lives as well, of course, as helping Tom* to recover from the physical effects of his stroke.  
We are so very grateful. Thank you again! 
∼ Service user and his wife
Samantha* and myself have got to know all of you very well and want to say what a super lot of people you are. At this difficult time for us, you have really helped us with cheerfulness and empathy.  
Thank you all! 
∼ Service user and her husband
I just want to thank you for the excellent care you've taken of Amanda* and how willing your staff have been to work with me. I feel that you've always been available when I needed you and that your therapists were always happy to take time out of their busy days to speak to me. I feel that we've established a good working relationship with this client and I'm looking forward to working with you and your team again in future.
∼ Social Worker
Michael's* stay was short with you all, but we would like to say a big thank you to you all, you are such a caring unit and did so much for Michael* and his family during his short stay.
Thank you so much again.
Keep up the great work!
∼ Family of a service user
To the entire team,
Thank you all so much for all the care, consideration, help and encouragement you have given to Harry* during his 6 weeks with you. I am sure all this improvement would not have been done without the help of all of you – he could not have found a more caring environment anywhere on earth!
With thanks and gratitude,
∼ Service user and his wife
Thank you everyone for all the help you have given me to learn to walk again, each one of you was amazing and taught me so much independence.
Thank you so much!
∼ Service user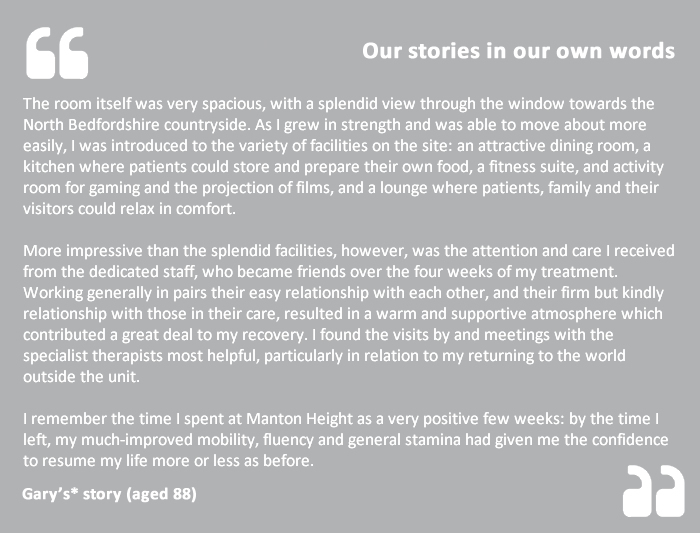 Gary's* wife's response
Staff at the unit are as friendly and attentive to the families of patients as they are to the patients themselves. During Gary's* stay, I was encouraged to visit as often as I liked, and Manton Heights became a comfortable and welcoming home from home. Nothing was ever too much trouble, and it was reassuring to know that when I left every evening, Gary* was going to be safe and well cared for…
… Our impression of the unit and what it provides for its patients is overwhelmingly positive, and we count ourselves fortunate to have been referred there for Gary's* rehabilitation. The remarkable improvement in his condition speaks for itself.
*All names have been changed for the purpose of confidentiality

Print This Page